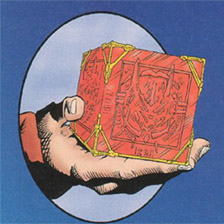 There is no emotion; there is peace.

There is no ignorance; there is knowledge.

There is no passion; there is serenity.

There is no death; there is the Force.


Access the holocron to enter.
---
Last Updated: December 10, 2002

News news NEWS! We are still working on getting the website hosted at Spark of the Force. So, pretty soon now everything should be setup. If anyone uses AOL Instant Messenger and wishes to contact me, my screenname is RYUUSAMURAI. I'm usually on so just hit me up with an IM if you want to chat about anything or have any questions. Send me some email if you have thoughts, suggestions, or notice any errors. Also, if there are any Jedi Knights whose biography or pictures you want me to put up yet that is not already up, send me an email and let me know who it is, and I'll try and get it up for you. The biographies are now being regularly added, so keep coming back for more information! SIGN THE GUESTBOOK!!!!!!

Latest Updates:
I have changed the site a bit with the color scheme and the background.
The Power of the Jedi sourcebook was recently released and alot of new Jedi were introduced there. Most went into the GAOTOR section except for a few that needed to go into either the KOTOR or ROTGE section so check back often as I will be adding biographies for those Jedi.
Also, some people have been asking me about the music I used on the Flash animation in the NJO section. Well, the song is "Boadicea" by Enya just in case anyone else is wondering.
---
DISCLAIMER: Star Wars and all related material are registered trademarks of LucasFilm Ltd. All information relating to Star Wars on this Site are solely intended for entertainment and informational purposes of the viewer only. All information is considered unofficial and any opinions expressed by this site are not necessarily those of LucasFilm Ltd. Images are property of one or more of the following: Dark Horse Comics, Del Rey Books, Bantam Books, and Lucasarts. All information is original work authored by Brian Emfinger using the aforementioned sources and is copyright protected by law ©.
---





---
Links